Segmented girth gears:
More than the sum of the individual segments
Girth gears are used to drive large, rotating systems such as dryers, rotary kilns or horizontal mills. They are installed around the circumference of these systems and transfer the drive torque from the gearmotor to the rotary cylinder. SEW-EURODRIVE has developed a flexible concept for this which simplifies manufacture, transport and installation.
Traditional girth gears generally consist of two to four segments and are assembled together for processing. This requires extremely large and expensive machines for production, handling and heat treatment. Besides this, the size of component parts creates disadvantages with regard to casting and heat treatment.
In contrast, SEW-EURODRIVE girth gears are split into several identical segments in order to keep the component parts short and easy to handle. By combining the latest materials engineering and state-of-the-art manufacturing methods, the disadvantages of the traditional manufacturing process are avoided and new benefits created. SEW-EURODRIVE uses only Austempered Ductile Iron (ADI) for girth gears, the tensile strength of which achieves a level unmatched by traditional materials.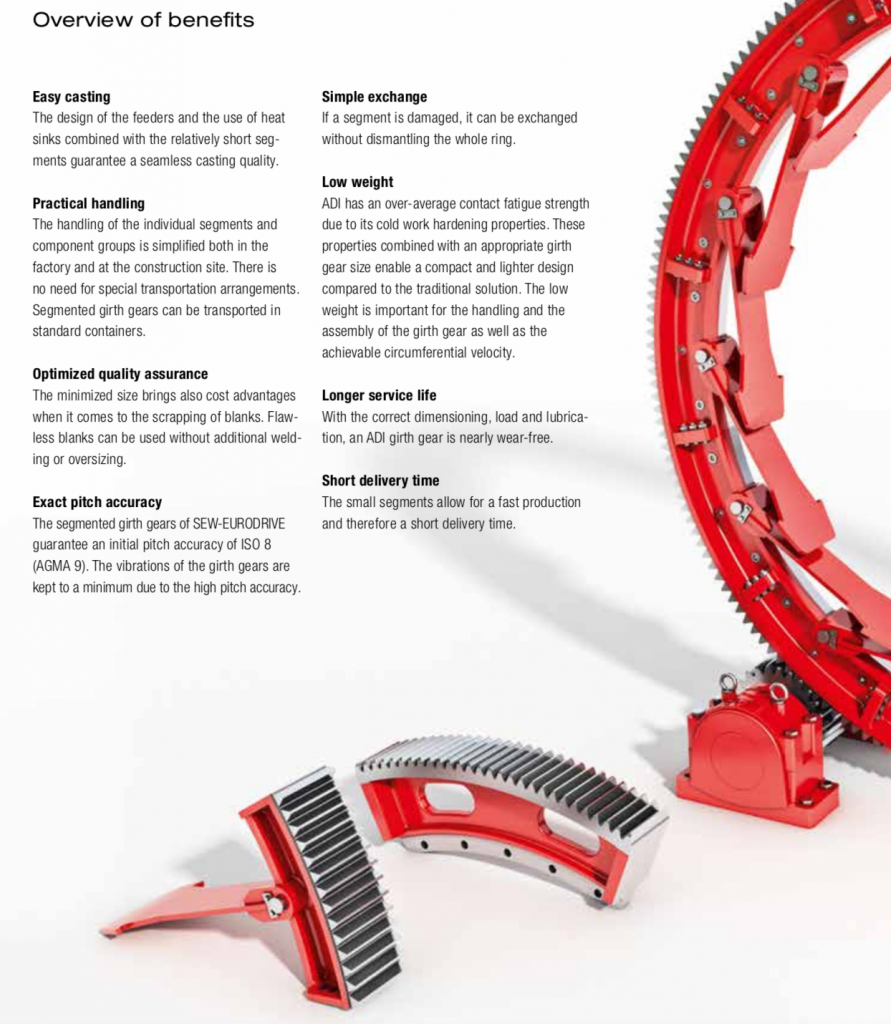 Technical data
–  Girth gear pitch diameter of approx. 16 m (larger diameters are possible after further discussion)
–  Maximum width 600 mm
–  Maximum power 4000 kW per pinion
–  Maximum pitch line velocity 6 m/s
–  Girth gear module 20, 25, 30, and 40 mm
–  Calculation according to standard ISO 6336(AGMA on request)

The rotation of the kiln can be induced by several drives. This way, the performance is distributed. High torques can be achieved with smaller, more efficient drive units as a result.